Dentures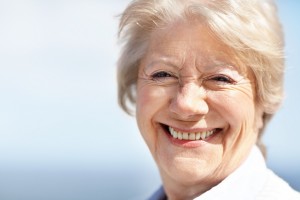 Not everyone loses all of their teeth, but in the unfortunate circumstance that they do, at Chesterfield Family Dental, we offer dentures as the ideal replacement for your missing teeth. Teeth can be lost due to injury, decay, gum disease or even genetics. If you lost your teeth, you probably don't care how you lost them, you're more concerned with how you will replace them. Without teeth, it can be quite difficult to eat, speak or smile normally. It's important to replace your teeth so that you can eat a normal diet, and not feel self-conscious about your absent tooth smile. Find out how you can replace your teeth in Springfield.
What Are Dentures?
Dentures are made of artificial gums and teeth and they are used to replace either an entire jaw of teeth or just a section of missing teeth. At Chesterfield Family Dental, we offer either a full set to replace your jaw or partials to replace a section of missing teeth. The purpose of dentures is to give you back the function of your teeth and your smile.
Dentures are made with a hard resin and are crafted to look exactly like natural teeth. Our Springfield dentist can even make sure your they look similar to your old teeth if you wish thanks to our advanced dental technology. The materials that make up your restoration are actually more fragile than your real teeth. Therefore, it's important to take extra good care of your dentures and to make sure you don't drop them otherwise they can easily break, chip or crack.
The material dentures are made of are not the longest lasting material. Unfortunately, you will most likely need to replace your teeth about every 5 years. We create your dentures with a supporting structure that looks just like your natural gum line and it's actually made out of a similar material as the teeth. You can expect your restoration to look completely natural and fit your mouth snuggly so you don't need to worry about the dentures falling out at the wrong time.
The Dentures Procedure
The procedure for dentures in Springfield isn't a lengthy or difficult process. First, our dentist will perform any necessary extractions after evaluating your smile. If you have a long history of dental decay or a family history of dental decay, Dr. Buzbee might recommend pulling any remaining teeth if he foresees it happening in the future anyway.
Once your teeth are pulled, we will take impressions of your gums, and send them off to the lab for your new restorations to be made. In the meantime, you will have a temporary set to wear until your permanent ones return. The lab uses these detailed impressions to make full or partial dentures that will fit your mouth perfectly so there is no slipping and sliding going on. This will help you feel secure when chewing or speaking without the worry that your dentures will fall out.
After they are made, they will return from the lab where we will test them out in your mouth to ensure they fit properly. We might need to make a few adjustments, but afterward, you will be all set! It can take most patients up to a few weeks to get used to wearing the dentures and to speak without a lisp. It's important to talk as much as possible to get used to the feeling in your mouth and to practice eating. Once you get used to it, you won't have to think twice about how to chew or speak!
Options
At Chesterfield Family Dental, our patients have the choice between partials, full or implant supported dentures. We recommend the partials for those who are missing only a section of teeth and do not have the support for a more permanent solution like a dental bridge. In addition, we also offer full sets which are perfect for those who need to replace an entire jaw or mouth full of teeth in the most cost-efficient and effective way. Lastly, we offer implant supported dentures for those who need to replace their entire jaw of teeth but want a more permanent solution. Implant supported dentures allow your dentures to be permanently fixed to your jaw so you don't have to worry about using sticky adhesives or taking your dentures out for cleaning. Implant supported dentures are in your mouth permanently.
How to Care For Your Dentures
Caring for your dentures is the best way to ensure your mouth stays healthy and that they have a long lifespan. Every night, it's important that you take your them out and place them in a cold glass of water with a cleaning solution in it. This will not only allow your mouth to have a break from wearing them during the night, but it will give you freshly clean dentures to wake up to! Make sure to brush your gums and tongue after removing your dentures to avoid bad breath and gum disease. Simply brush your dentures to remove any particles and bacteria, brush your gums with toothpaste and a soft toothbrush to freshen your breath and to protect against gum disease and pop them back in your mouth.
It's important to visit us regularly so we can check your gums and ensure your dentures still fit correctly. If you have implant supported dentures, simply brush them every morning and night like you would with natural teeth. These care tips will help your dentures last longer and keep your mouth healthy.
Interested in Dentures in Springfield?
If you have lost your teeth, are in the process of having your teeth pulled or already have dentures, give Chesterfield Family Dental a call in Springfield to learn more about our different options. Partial, full and implant supported dentures are a perfect solution for regaining the functionality and appearance of your smile back. Regain your confidence with dentures! Give us a call or fill out our contact form to schedule an appointment with our dentist.