The Winner of the Start With a Smile Giveaway is…Kayla!
Start with a Smile was created through the passionate idea of giving back to our community.  Dr. Buzbee is a lifelong resident of the Springfield community and he wanted an opportunity to share his more than 30 years of experience and expertise with someone who could truly benefit from the opportunity of a new smile.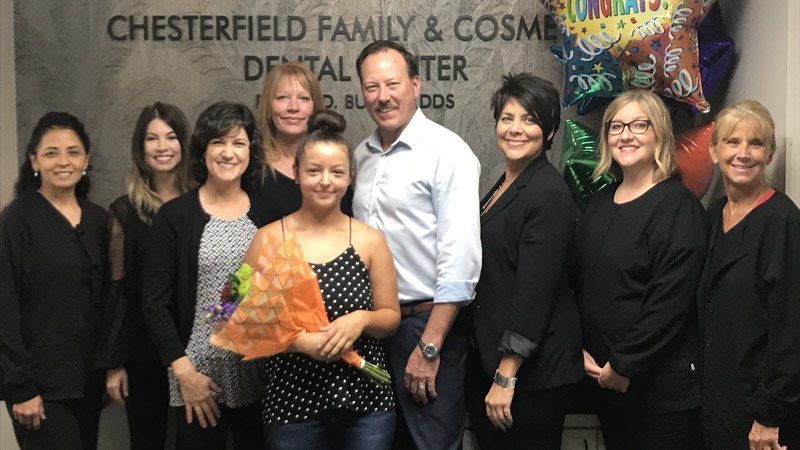 Our general dentistry practice can provide a wide range of dental services. We can typically provide every type of dental service without having to refer you to other specialties.Learn More…
Our practice also provides the highest-quality services for restoring mouths damaged by dental disease, injury and common problems that require cosmetic dentistry. Learn More…
Our primary goal for our patients is to achieve and maintain optimal oral health through advances in techniques, technology, and by maintaining their scheduled dental exams. Learn More…
Welcome to Chesterfield Family Dental, your Springfield Dentist!
We are a distinguished dental practice and family dentistry conveniently located in the Chesterfield Village area in Springfield, Missouri. Your dentist in Springfield, Dr. Buzbee, and his experienced team strive to help patients of all ages achieve and maintain a healthy beautiful smile.
Cosmetic and General Dentistry
One of the first things people notice is your smile! Springfield dentist, Dr. Buzbee has the expertise to improve the health and appearance of your smile. We are pleased to offer the latest general and cosmetic dental procedures such as white fillings, bonding, crowns, veneer, orthodontics, Invisalign, and teeth whitening.
Professional, Personalized Dental Care in Springfield
At Chesterfield Family Dental, we are dedicated to providing each patient the highest standard of care in a pleasant and comfortable office environment. We work with you to create an individualized treatment plan that best meets your needs.
Personalized and advanced dentistry with a commitment to excellence – that's what you can expect at Chesterfield Family Dental!
Please contact us if you have any questions or would like to schedule an appointment. We do except new patients everyday. Please contact us in case of a dental emergency.


Dr. Roger D. Buzbee graduated from University of Missouri at Kansas City School of Dentistry. He began in private practice as a Springfield dentist in 1988. In 2000 he began attending the Las Vegas Institute of Cosmetic Studies (LVI), where he became a full mouth graduate.
In addition to his cosmetic training through LVI, he has taken courses at Occlusion Connections where he gained even more knowledge in the field of TMD (TMJ). The comprehensive training in advanced neuromuscular dentistry puts him in elite group of dentists, where 1% of all dentists have specific training.
As result, Dr. Buzbee had treated hundreds of cosmetic cases and his knowledge and ability has allowed him to free many patients of a lifetime of suffering from the debilitating effects of TMD.
In his free time, Dr. Buzbee enjoys fishing, hunting, and the outdoors. He also likes to spend time with his family and travel when he can. Learn More…

Everyone was so friendly and gave me very personalized attention, even though the office was full of patients. I appreciate the input and information that was given by both Audra and Dr. Buzbee and the thorough and modern techniques they utilized to give me confidence that my exam was done with excellence. Thanks for a great visit!
M Brookie